Tuesday, January 1, 2015
This Is The Season To Be Beautiful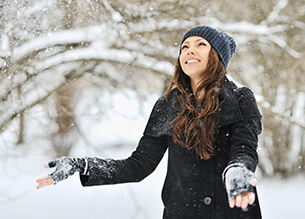 Winter is known for its harsh and drying effects on the skin. Irritated, flaky skin and chapped lips are all part of the routine winter skin phenomena that require more work to keep healthy. However, did you know that winter is also the best time to improve the appearance of your skin with a cosmetic laser procedure?
Ultraviolet radiation easily causes darkening of the skin (known as postinflammatory hyperpigmentation) after any traumatic injury or inflammation of the skin. Individuals who tan easily are particularly susceptible to this type of injury-induced discoloration. In terms of both intensity and duration of sunlight, ultraviolet radiation levels are at the lowest levels during wintertime. Examples of procedures that are ideally performed during the fall to wintertime period include laser procedures to remove hair, brown spots, red spots, as well as skin resurfacing lasers that improve the complexion and firmness of the skin.
Dermatologists will typically recommend that patients start thinking about what they would like to improve about their skin during the summer time and start planning for and undergoing the actual procedure(s) during fall and wintertime. Many laser procedures can take several treatment sessions spread over several months, so careful planning is key. Talk to your local dermatologist about your particular cosmetic concerns and plan out a schedule that maximizes the positive outcomes of that procedure. You'll be ready to show off a fresh and rejuvenated look just in time for spring.